Online Video convert
convert videos online easy using ucbrowser and udisk account. This method is easy method and can only posible with the help of ucbrowser.
Note:
If you try to upload video from memory it will take more time than expected so follow these simple steps and make easy uploading of videos
Main step
•Sign in using UDISK account in Ucbrowser
• If you are new to this service sign up using facebook or Google this is moreprivacy &safe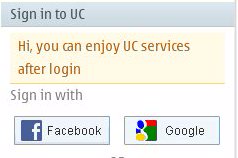 Step 1:
Go to download page of the video you want to convert and use the option
cloud download

Step 2:
download process will start. download speed deponds upon network speed and file size. Download high quality video will be better because when you convert high quality its output video quality after converting will be low. So always convert HD videos to Mp4
Step 3:
Wait for full cloud download of file! and visit to this
video convertor site
here you can place or link of the video file (link must end with .3gp) but you cannot directly convert youtube videos
Step 4:
To upload video to the site use choose file option (browse) and there will be three option showed to you by ucbrowser choose the 3rd option "upload via UDISK" and select video you download for converting to mp4
Step 5:
After uploading file below there will be many options , below optional setting Change Size (W*H) of the video using these
screen sizes
and click on convert. Converting progress will start.
Step 6:
Download converted video from the page if had followed all our steps there will good result
#Tags: Convert Videos Online , Asha and Java Mobiles
Page modified on 2018-02-10 12:30:16